Firstly, we would like to thank you for your interest in our amazing product!
An Unexpected Start
Boozy Scoops was created in 2021 due to the unfortunate circumstances that were going on in the world. As a professional Entertainer I knew that my trait would be one of the very last ones to come back in full force. So instead of feeling defeated, I decided to turn my "Lemons Into Lemonade!"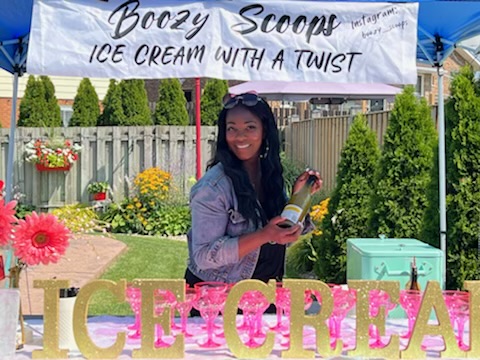 An International Experience
Personal Circumstances changed in 2018, and the shop was no more. I was still performing and at the same time trying to find something that would feel good and come just as naturally to me. I was  really missing the shop.
2020. Pandemic Hits. My wheels are turning and trying to figure out how I am going to survive. 
2022, The ice cream  idea resurfaced with thoughts to create a dessert that has the best of both worlds.
After trying a couple of things, it hit me, why not add the special kick to the sauce. Brilliant! I shared my idea with my partner and he said… "You know there is a way to do it and stay true to the real fruit sauce with very little sugar. It's how I grew up watching my mom and grandma do it in Europe. "
After the first try, between his European input and my Guyanese flare, we made magic together! Boozy Scoops… Sauce and Concept was officially created.  I contacted my favorite Ice Cream place and launched Boozy Scoops at my very first market in Crystal Beach, ON.
My Close Friend, her son, and myself arrived in Crystal Beach, ON with 
2 Boozy Scoop Fruit Sauce Flavours. Everyone Loved the combination of the sauce and the ice cream, by the end of the Market Season, we had… 12 + Sauces to offer!                
We were selling out! Had repeat customers and then started getting requests for just the sauce. Wheels began to turn again and here we are!  … and here YOU are.
                                         Welcome to Boozy Scoops.
                                                              Cheers!