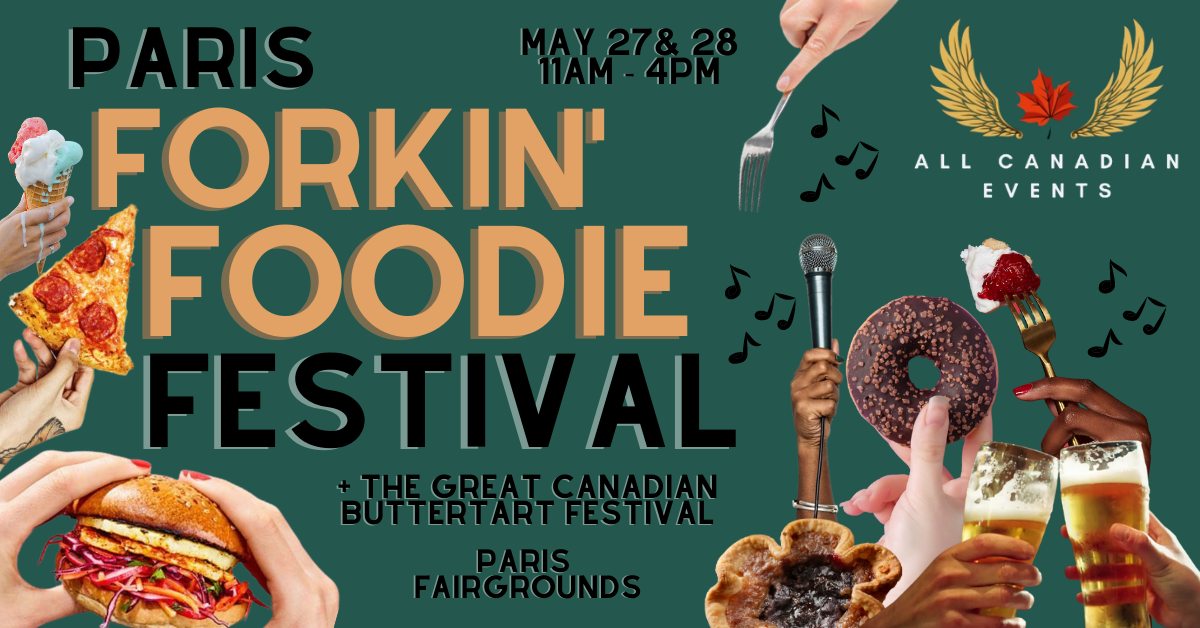 Well, friends, it is about that time again! Very soon, the sun is going to start shining, the grass is going to start getting greener, and Paris, Ontario will defrost into the beautiful town of events and good vibes it was born to be.
Join us for the Paris Forkin' Foodie Festival! We can already smell and taste the mouth-watering gourmet hot dogs, jerk chicken patties, perogies, twisted potatoes, butter chicken, grilled cheese, samosas, Cuban sandwiches, and everything in between. A foodies ultimate paradise!
The festival has 15 different food booths and 25 baker booths. With such a range of foods and sweets, you will be sure to not only find options that the whole family will enjoy, but also leave utterly stuffed!
BONUS! Attendees can expect to be able to pair their favourite foods alongside butter tarts. Yes, you read that right. We are combining our famous Great Canadian Butter Tart Festival with our Forkin' Foodie Festival! We know what you are thinking, the perfect mains to pair with the perfect dessert!
So, you've had enough food to feed an army, now what do you do? Well, worry no more because the Forkin' Foodie Festival also offers live music, a beer garden, artisan shopping, and Southern Ontario's Largest Butter Tart Festival. Grab a bite, cold drink and come out and socialize while listening to some local music.
Mark yourself as going and more details will be announced soon.
Details:
This is an indoor/outdoor event.
Paris Fairgrounds
May 27 & 28. 11am – 4pm
$5 admission (cash only at gate)
12 & under are free